Mangalore: The Father Muller Charitable Institutions celebrated the platinum Independence Day with full fervour and admiration to Mother India. The day witnessed the March past by the security personnel followed by the beautifully rendered prayer song by the MBBS students of the Father Muller Medical  College. The welcome address and portfolio of the chief guest was essayed by Dr Shiji P.K., Professor and Head Community Nursing of the Father Muller College of Nursing. The chief guest Dr Urban J.A. D Souza the dean of the Father Muller College Of Allied Health Sciences hoited and unfurled the national flag to the shout of salute by the marching band and then the chorus of voices singing fervently the National Anthem 'Jan Ghan Man'.
Dr Urban emphasized the need for plurality and brotherhood as depicted in the tricolour. The wheel of hope, love, kindness etc being the spoke drives the nation to greater heights. With Western invaders and colonial powers looting our motherland for centuries, we did not quiver, we strived hard for our independence and our existence. We have truly become Athma Nirbhar and this platinum jubilee showcases the lion's stride.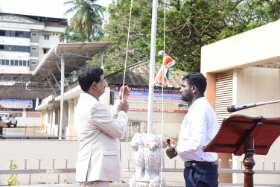 He called for all to uphold the constitution and live by its preamble. The shame of slavery should not be forgotten, the past sacrifices should always be remembered for a better future.
Patriotic fervour heightened with the students of the Father Muller School and College of Nursing singing a medley of popular patriotic songs. Witnesses were the patients and bystanders and even the crowds around the front gate singing along. 
The day ended with the announcement of the 'best utilisation of services under Ayushman Bharath '- privated hospital D.K., to be received later that day by the District Minister Incharge and District Deputy commissioner to the Father Muller Medical College Hospital. The gathered cheered the honour which is nominated by the Secretary of Health and Family Welfare and the Suvarna Arogya Sampoorna Trust, Bengaluru.    
The event was planned by Rev. Fr Ajith B Menezes, Administrator FMMC who also was the brain behind the beautifully lit front facade of the hospital featuring the colours of the national Flag. The videos and pics of the lighting have become viral with many a thousand likes in social media.