Nitte University Centre for Science Education & Research is a state-of-the-art teaching and research centre under Nitte (Deemed to be University). Located in a serene and pristine environment away from the hustle and bustle of the city, NUCSER offers programs that are in tune with the emerging trends on career in research. The programs are highly interdisciplinary, application-oriented, and provide a perfect platform for those aspiring to take up a career in health science, food safety and biotechnology. The institute employs student-centric teaching methods that allow students to choose their courses according to their learning needs, interests and aptitude.  The course curricula in all the programs are practical oriented and are aligned towards skill-development.  In all the PG programs, the project work is being carried out for a period of one year.  In NUCSER, the impetus is on "One Health" and the various infectious, non-infectious, zoonotic and environmental issues affecting human health. 
BSc and MSc BIOMEDICAL SCIENCE
Biomedical Science program is one of its kind that prepares a student for a variety of career options in the health science sector. In Biomedical Science the students are initiated and trained in various disciplines to gain an understanding of how the human body is organized (anatomy), how the various organs and cells function (physiology, biochemistry and molecular biology), what are the structural and chemical changes taking place in the human system during diseases (pathology and clinical biochemistry), the causative agents of infectious and non-infectious diseases (microbiology, medical genetics, cancer biology), the ways one can diagnose a disease (pathology, biochemistry and molecular biology), agents used in the treatment of diseases (pharmacology) and instrumentation (biophysics) in their under graduation leading to post graduation, where research is carried out for a period of one year on topics of great relevance to health. Graduates and postgraduates in biomedical sciences are in great demand in the health care industry and play a role in diagnostic services, biomedical instrumentation, drug development, biotechnological industry and pharmaceutical industry, contributing to development of new diagnostics or therapeutic agents and providing regulatory services. The maximum intake for BSc Biomedical is 50 whereas in MSc Biomedical the intake is limited to 15 seats only.
MSc FOOD SAFETY AND BIOTECHNOLOGY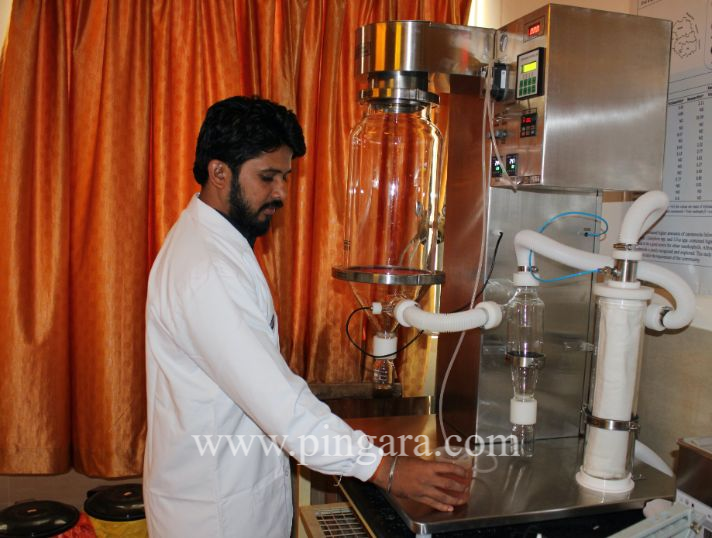 In Food Safety & Biotechnology PG program, the focus is on food safety and public health.  Courses that address the issue of food adulteration, chemical pesticides that accumulate in food, additives and preservatives that can impact health, and quality issues due to water contamination by pathogenic organisms are covered in this program with provisions for a project work to be carried out for a year on a topic of relevance.  The intake is limited to 10 seats only.
MSc MICROBIOLOGY
Microbiology program has a range of courses that would enable a candidate to venture into any field of application such as medical microbiology, animal microbiology, food and agriculture and pharmaceutical industry.  This program is a specialised one and is designed for students seeking career advancements in the field of microbiology. The intake is limited to 5 seats only.
MSc BIOTECHNOLOGY
Biotechnology is an application-based branch of biology, which has tremendous applications in various fields including health science, bioengineering, food security, and environmental science. It has evolved from the ancient science of brewing and baking where living organisms were used to develop products of commerce. The program offered in NUCSER is unique compared to other similar programs offered elsewhere in terms of its curriculum and the composition, that include both basic and advanced courses as per the prescribed guidelines of statutory bodies. Here, the focus is on skill-development, particularly in training the students in specific modern-day molecular tools and methods, that not only makes them industry-ready but also provides a platform for advanced research.  The curriculum encompasses the applications of biotechnology in various fields with provisions for a project work to be carried out for a year on a topic of relevance. The intake is limited to 5 seats only.