(Choices today create our tomorrow)
Milagres Educational Institution has a 173 year legacy. Milagres Degree College was established in the year 2010. It is located in the heart of the coastal city of Mangalore, Karnataka. The College is locally administered by the Milagres Church, under the management of the Catholic Board of Education, Diocese of Mangalore. It consists of a CBSE School, KG to 10th standard, an aided High School 8th-10th standard and a Pre-University College offering Commerce Courses.
(Milagres Educational Institution)
Mission and Vision of the college:
VISION
"Empowering youth through value based education to enhance the quality of life and
build a better future"
MISSION
To instill in our students a passion for perfection and provide them with knowledge, skill and value
To impart quality education aimed at students' holistic development and prepare them to face global challenge boldly
To engineer social transformation by creating professionals who will be academically sound, emotionally balanced, morally upright, socially responsible and ecologically sensitive
MOTTO
"Passion for Perfection"
The college acquired its Quality Excellence Grade by securing B++ Grade in the Academic year 2019-20, within a span of 9 years. It is the first Christian self-financed college to have acquired this laurel.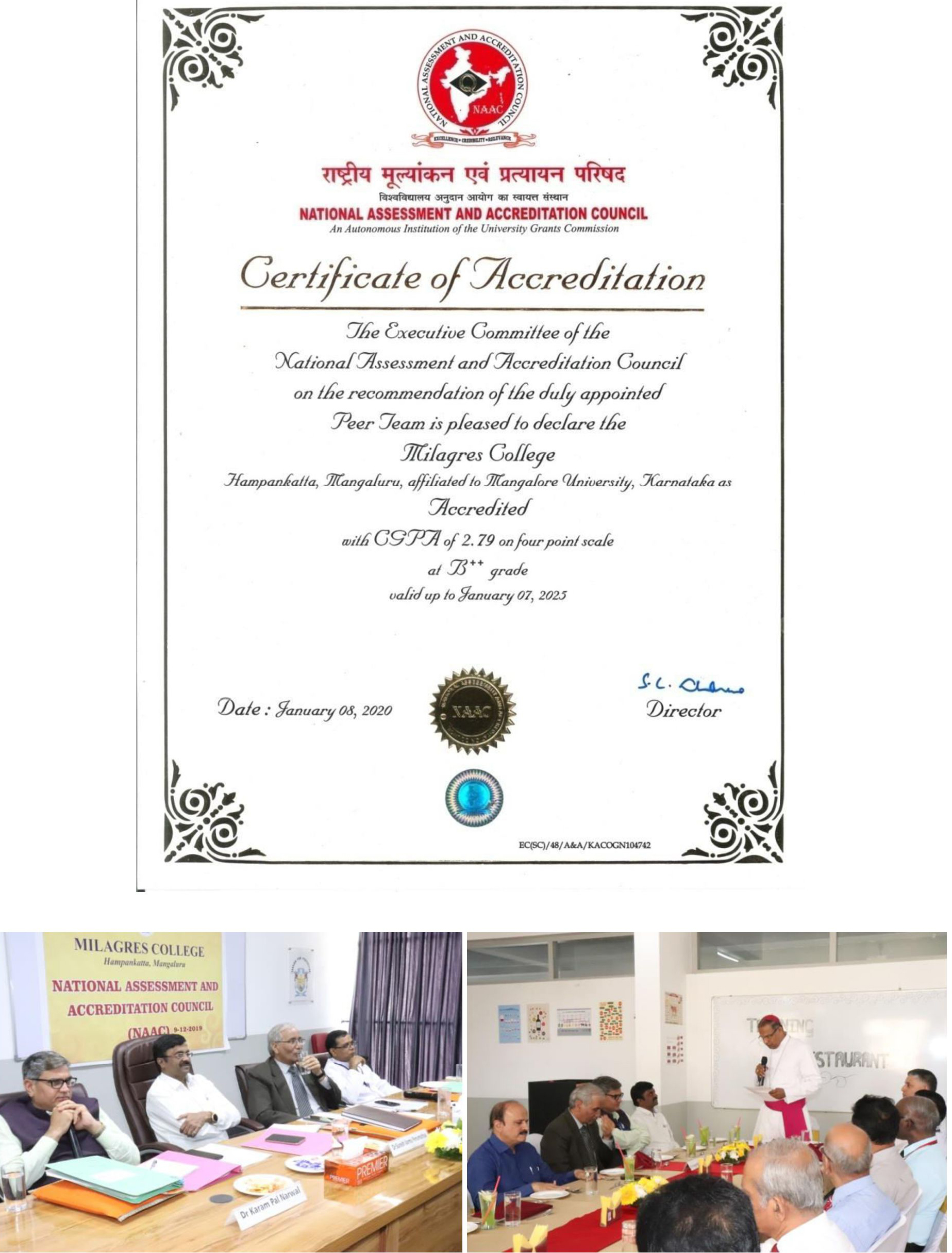 Due to the variety of skill-based professional and degree courses, Milagres College has become the institute of choice to students all over India and aboard.
The Milagres College has a young, energetic and academically well qualified band of staff who are committed to realise the objectives vision and mission of institution.
Courses / Programmes, Offered:
Hotel Management (B.Sc. Hospitality Science) - 3years Degree Programme, along with Aviation & Hospitality, Travel &Tourism, Logistics and Supply Chain Management.
"Think little goals and expect little achievements. Think big goals and win big success."
Regular B Com- 3years Degree Programme, along with Aviation & Hospitality, Travel &Tourism, Logistics and Supply Chain Management. 

(A leader should be visionary and have more foresight than an employee.)
B. Sc (FND) Food, Nutrition & Dietetics (Para Medical Course)  
3years Degree Programme. Along with Aviation & Hospitality, Travel &Tourism, Logistic and Supply Chain Management.

B. Sc (ID) Interior Design & Decoration- 3years Degree Programme. Along with Aviation & Hospitality, Travel & Tourism, Logistics and Supply Chain Management.
 Along with professional degree courses and UGC career oriented diploma courses, the College has taken the initiative to offer short-term diploma and certificate courses.    
Short Term Certificate Courses by Milagres (Qualification with 10th Pass)
College Certified 2 Years Diploma Course in Interior Design (ID) With CAD.
College Certified 1 Year Diploma course In Hospitality Management
6 Months Diploma Course in Mixology & Flaring Skills.
The vibrant IQAC team consisting of academicians, industrialists, stakeholders, parents, alumni and students, guide and assist the college in enhancing its quality and progress.
This academic year of 2020-21 is special because the College celebrates its Decennial Year of its existence.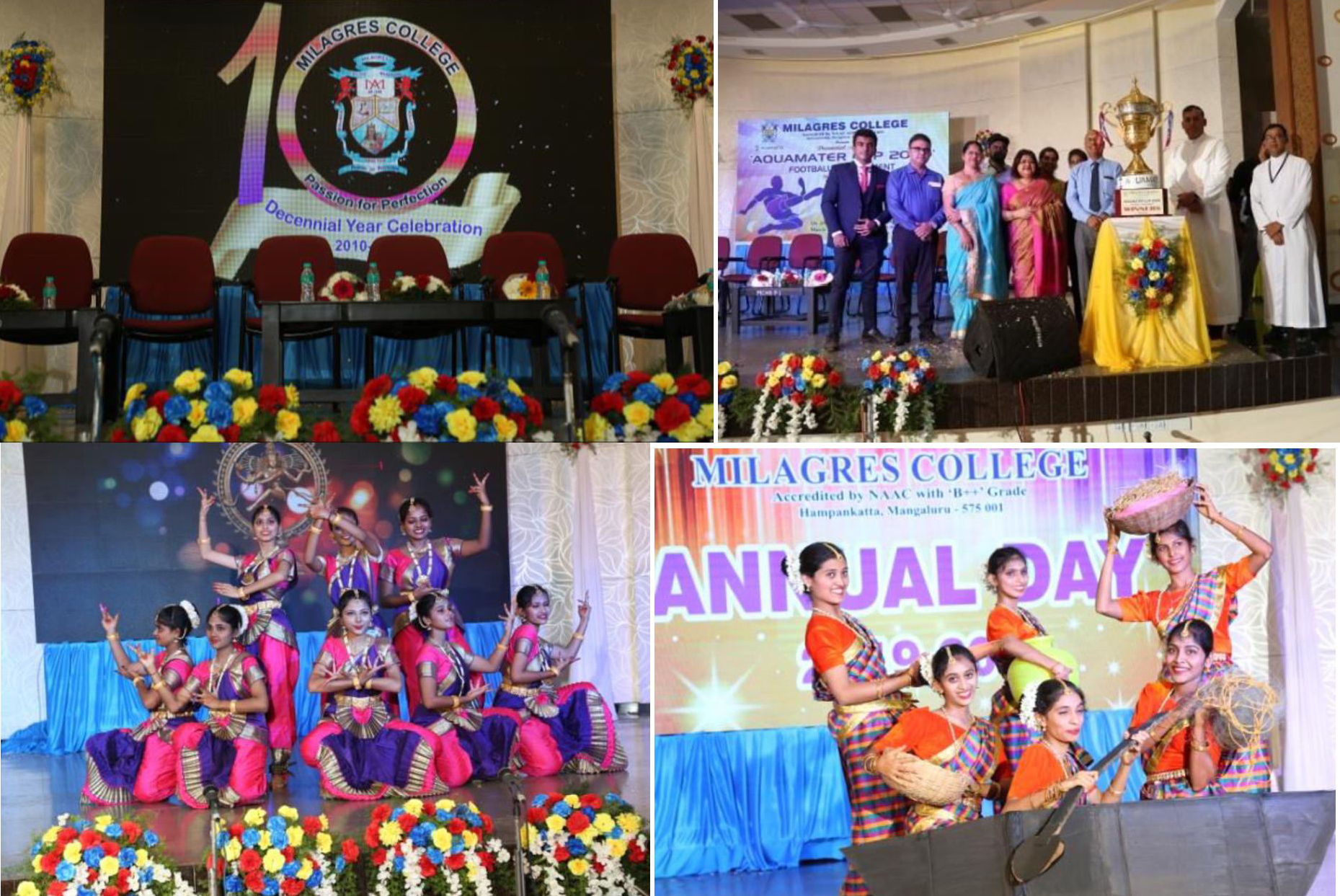 Academic Performance: 
The Academic Performance of Final Year Students is excellent in 2020. B.Sc Hs-100% ; B.Sc FND- 98% ; B.Com-80% ;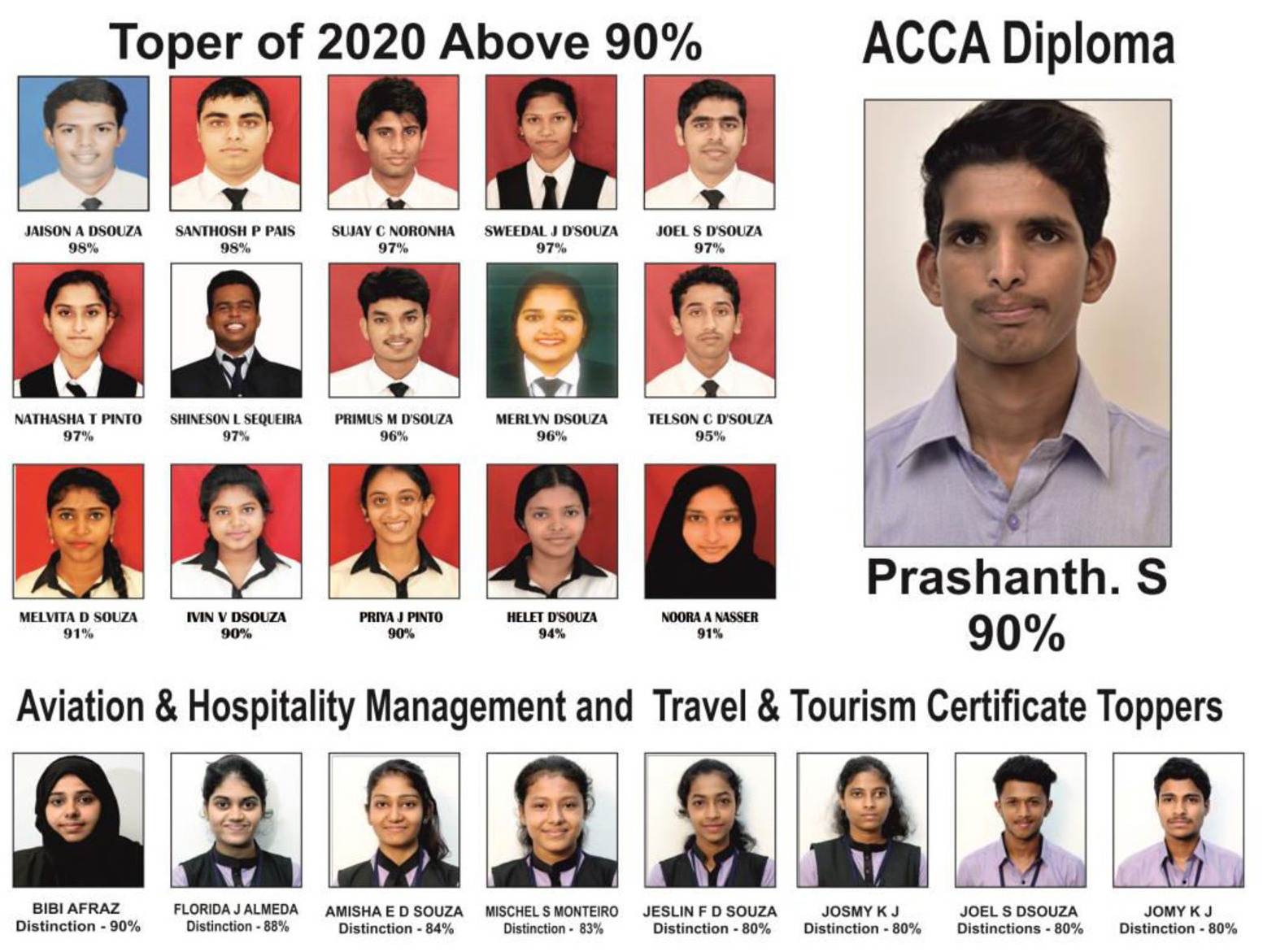 As a landmark of this Decennial year, three students of Hotel Management (BHs) brought glory and honour to the college by securing all three ranks assigned to B.Sc HS discipline at the Mangalore University in 2020.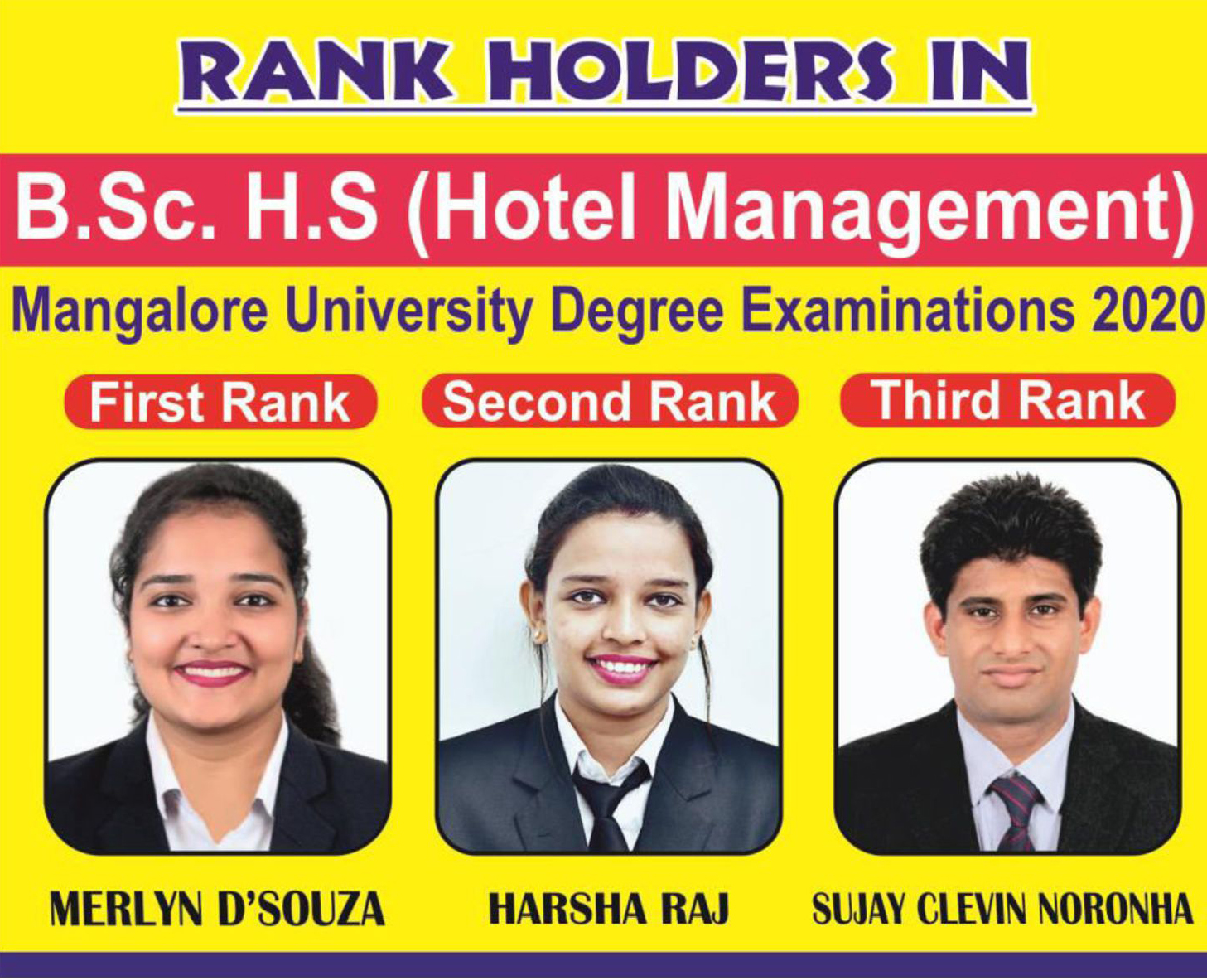 The college has left no stone unturned in its efforts for the placement of its students in 2020, despite the hurdles caused by the Covid-19 pandemic.
The college has state of the art facilities for teaching and learning processes. At the same time, the college actively encourages and promotes extra-curricular and sports activities: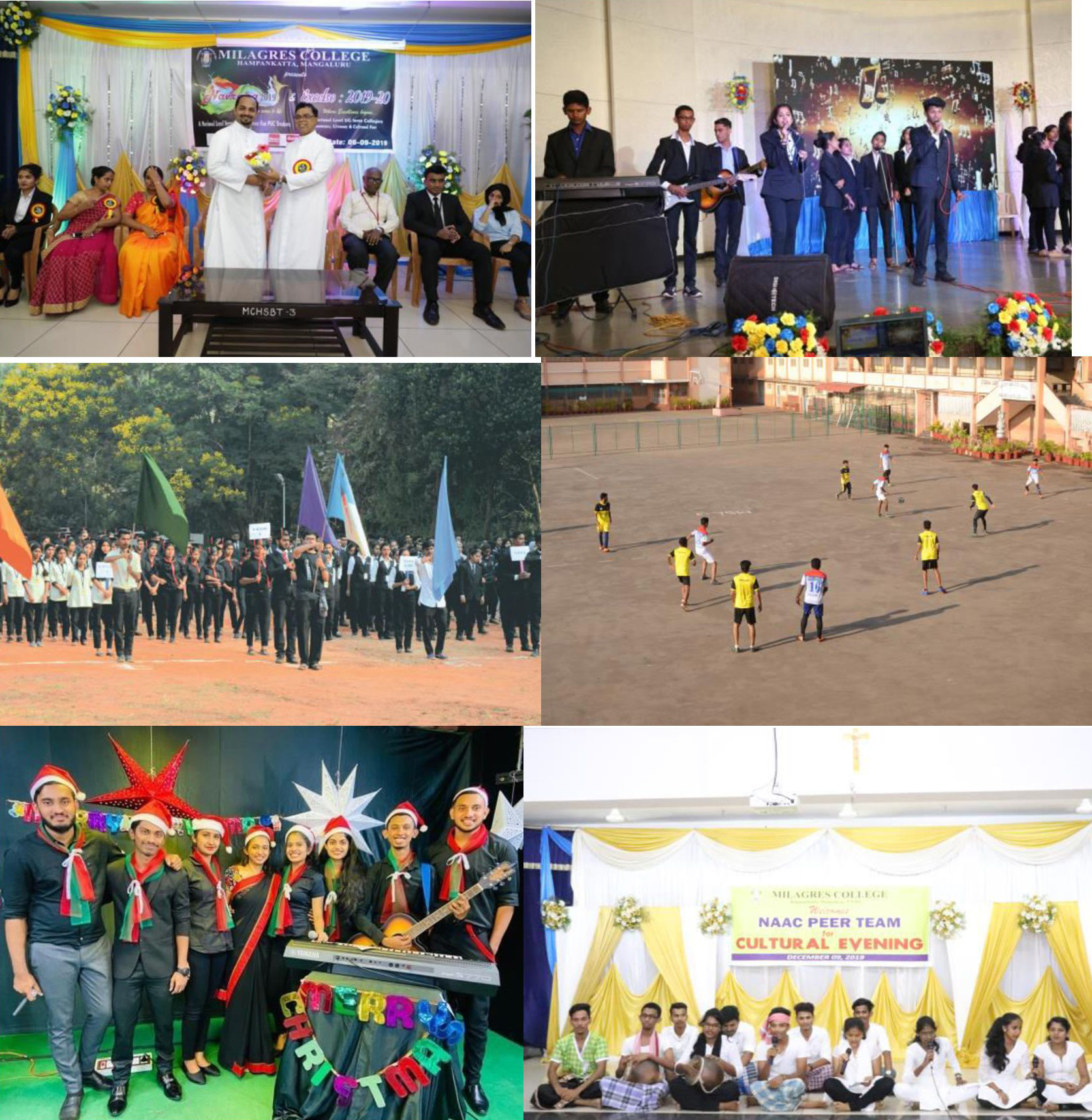 The Staff and Students are sensitised to take care of our environment with green initiatives using non degradable waste.
In these hard times of the Covid-19 pandemic, Milagres College management, principal, staff, NSS unit and YRC went out of the way to assist more than 400 needy families with food kits. Students took the initiative to create awareness about the spread of the corona virus, the precautions to be taken and the importance of vaccination.
 Milagres College is unique because it concentrates on character building trough regular value education and personal counselling and inculcates citizenship behaviour trough discipline and constant mentoring.