Bangalore:  Justice M. Rama Jois, 89, passed away on Tuesday morning after suffering a massive heart attack in Bangalore. He survived by his wife Vimala, Son Shailendra & Daughter Tara. He had served as Chief Justice of Punjab & Haryana high court. Justice Jois also served as a member of Rajya Sabha & a governor for the states of Jharkhand & Bihar.
He was born on July 27, 1932, at Shivamogga. Jois had done his "BA & LAW Degree. He enrolled as an advocate in 1959. He was associated with the "Rashtriya Swayamsevak Sangh" (RSS), from the beginning. He was arrested during the emergency & spent time in Bangalore jail with "Shri Atal Bihari Vajpayee" & "L.K Advani" among other political prisoners. He was appointed as a judge of Karnataka High Court in 1977.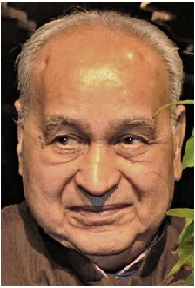 A noted jurist, Justice Jois also wrote several books on various aspects of law including constitutional law. Ancient Indian law and "Bharateeya values" in modern law was an area of his special interest.   
Several leaders including Home Minister Amit Shah, Union Finance Minister Nirmala Sitharaman, BJP National President JP Nadda & other expressed their grief over the legal luminary's demise.
Chief Minister B.S.Yediyurappa expressed his condolences & said hid death had caused him great pain & prayed for his family to give strength & also to bear the loss. He had tweet & said, "Deeply saddened by the demise of Sri Rama Jois, a retired judge. He had also served as a governor & a Rajya Sabha MP. I pray to god to give his family strength to bear the loss. May his soul rest in peace. OM Shanti."