Mangalore, Junee 05:  The sixth day of Tredicina devotion preceding the annual feast of St Anthony of Padua was held on June 05, 2023, at St Anthony Shrine, Milagres Church, Mangaluru. 
Rev. Fr Alwyn Richard Dsouza, Designate Director, Family Life Service Centre,Bajjodi celebrated the Eucharistic and prayed forfamilies along with Rev. Fr J B Crasta, director, and Rev. Fr Nelson Peres, assistant director of St Anthony Ashram, Jeppu.
Fr Alwyn preached on the theme, "Word of God: The Double-Edged Sword". Quoting the biblical passage: "The word of God is Alive and Active", he said, "When we open our Bibles to read and study, we are not opening any other old, traditional book but rather a book that has been collated by the power of the Holy Spirit."
 Fr Alwyn said that when we read Scripture, we are reading the very words of God- Words that can edify, challenge, build, prune, and change us.
At the end of the mass, Fr Nelson Peris,assistant director of the Ashramled the novena in honour of St Anthony, during which the special intercession of the session was sought for the various needs and prayer intentions of the devotees.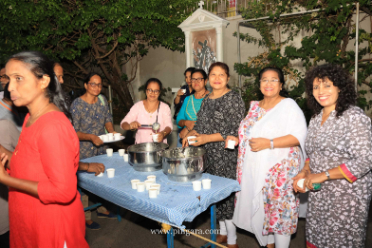 Choir members of Derebail parish sang and joined in the thanks giving. Payasam (sweet dish) was served to all the devotees who attended the devotion.