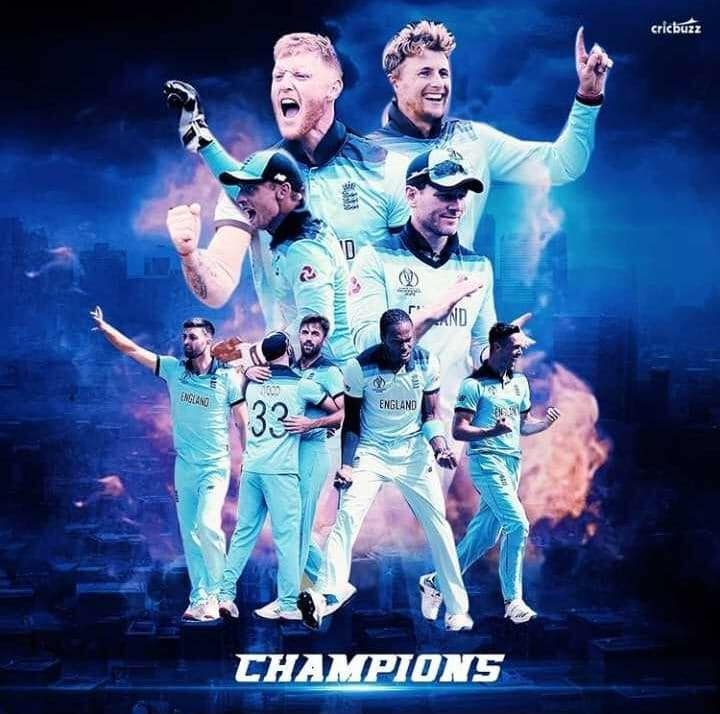 What a cruel finish to perhaps the best-ever WC finals between two teams which have waited for 44 long years to lay their hands on that coveted cup. What an edge-of-the-seat affair, what a box office! Absolute thriller that went down the wire with nothing but boundaries separating the two teams that played their best game on the ground.
Hundred overs could not separate England and New Zealand neither the scores could separate them, nor the wickets. Two more overs, it's even-stevens. The last ball of 100th over saw the run-out of Mark Wood and last ball of the 102nd over found Guptil short of crease. But was it right that such a fiercely fought finals was decided on number boundaries? Why not on number of wickets taken? All ifs and buts, England rode on their luck and laid hands on the most coveted cup that eluded them for 44 years.
Kiwi Boys what character and what poise! You deserved the World Cup. But perhaps England deserved it more because it's they who introduced this fantastic game called cricket to the world. This is perhaps, nay, by all means, best-ever England one-day side with arguably England's best-ever opening pair in Roy and Bairstow, a fine finisher in Butler, a phenomenal all-rounder in Stokes, an explosive bowling line-up that could rattle the best of best batting orders and a shrewd, brilliant yet under-estimated captain in Morgan. Add to it a modern day legend at No 3 in Root. That's almost a near-perfect cricket XI any country would love to have. They were the pre-tournament favourites, No 1 one-day side in the world and now the World Champions that too at the Mecca of Cricket Lord's.
I thought I'd seen everything in cricket, and then comes this Finals. Absolutely ridiculous with glorious uncertainties that only cricket can throw up. Lady Luck was with England. That missed catch of Stokes by Boult who has taken some absolute blinders at the boundary in the past as well as in this WC, a clean throw from the deep that hit Stokes' bat and flew to the boundary. It was Ben's and England's Day all the way.
Hard luck Black Caps. You deserved the World Cup but it slipped out of your hands by thinnest of margins, not runs, not wickets but boundaries that made the difference. England won the Cup but you Kiwi Boys won the Hearts...