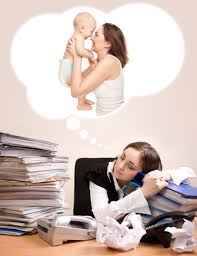 "Mamma, where are you going?" Cried the little girl as her mother got ready for work. "Mamma don't go, I need you." Said the girl and held on to her mother. "My dear, I will be back soon. Take care of yourself." Said the mother with a heavy  heart.
I am sure many of the working mothers can relate their mornings to this particular incident. Seeing the tearful, tantrum filled goodbye, the working mothers may feel guilty for leaving the child with caretaker. In the present day world many women are forced to take up jobs to meet the basic needs of the family and to provide economic security. There is no longer "typical family", where the father is a breadwinner and the mother, a caretaker. Most of the time, the society raises major concern regarding the working mothers, their maternal love and care towards their children. These fears have no basis, in fact, just like homemakers even the working mothers cater to the needs of the children. To provide a better tomorrow, the working mothers struggle hard with the hope that their hard work will pay better rewards to their offspring.
I remember an incident, when a colleague of mine was giving her farewell speech, she stressed that she is guilty that she had not given a lot of care and concern to her children as she was a working mother. Her eyes were moist with tears and her words were filled with heart wrenching pain. As her tears rolled down her eyes, she was surrounded by her children and was comforted by them. This made me spellbound and a ray of hope triggered in my heart. Deep within me I felt that there is no need for a working mother to feel guilty about the care and love towards her children. Her children will always remain as her strength and source of inspiration which keeps her going. At times it's necessary to keep the emotions at bay and the trust and hope in almighty will make the working mothers more strong in all their endeavours.
Working mothers, always remember that you are a epitome of strength and innumerable capabilities. The Almighty has filled you with all the energy to stand strong in all the storms that befall you. Move on, move on, make your life a remarkable one and set an example to all the mothers who are working.
Cheers to all the working mothers….
Jeshma Dsouza